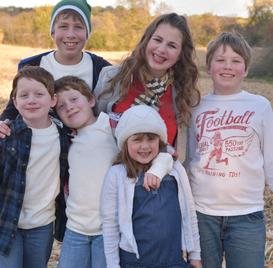 God is Good VBS began in 2013 after Julia Johnson, and many Catholic educators, noticed a tremendous need for a sound Catholic, summer program, that created energy for children, so they could grow excited about their rich faith. Providing fun activities, yet being committed to Catholic education and forming our children's faith, is critical when considering Vacation Bible Schools. Our Catholic Vacation Bible School programs enrich our Catholic faith and engage children in Scripture. We embrace the richness of Church traditions and Scripture while praying, creating, singing and playing. Guidance from the Holy Spirit fosters children's love for Jesus as they participate in these wonderful opportunities.
The photo to the right features some of our "curricula testing team." They have been our first "curricula test team" for several years. Emily, Benjamin, Ryan, Michael, Joshua and Mary - ages eight to eighteen - participate in every God is Good VBS game, art project, prayer, song, dance, role play and snack. Then we lead our curricula with a "large test group" too! Julia improves aspects of her curricula based on the children's feedback and performance of activities.
Click on our God is Good VBS Staff to learn more!